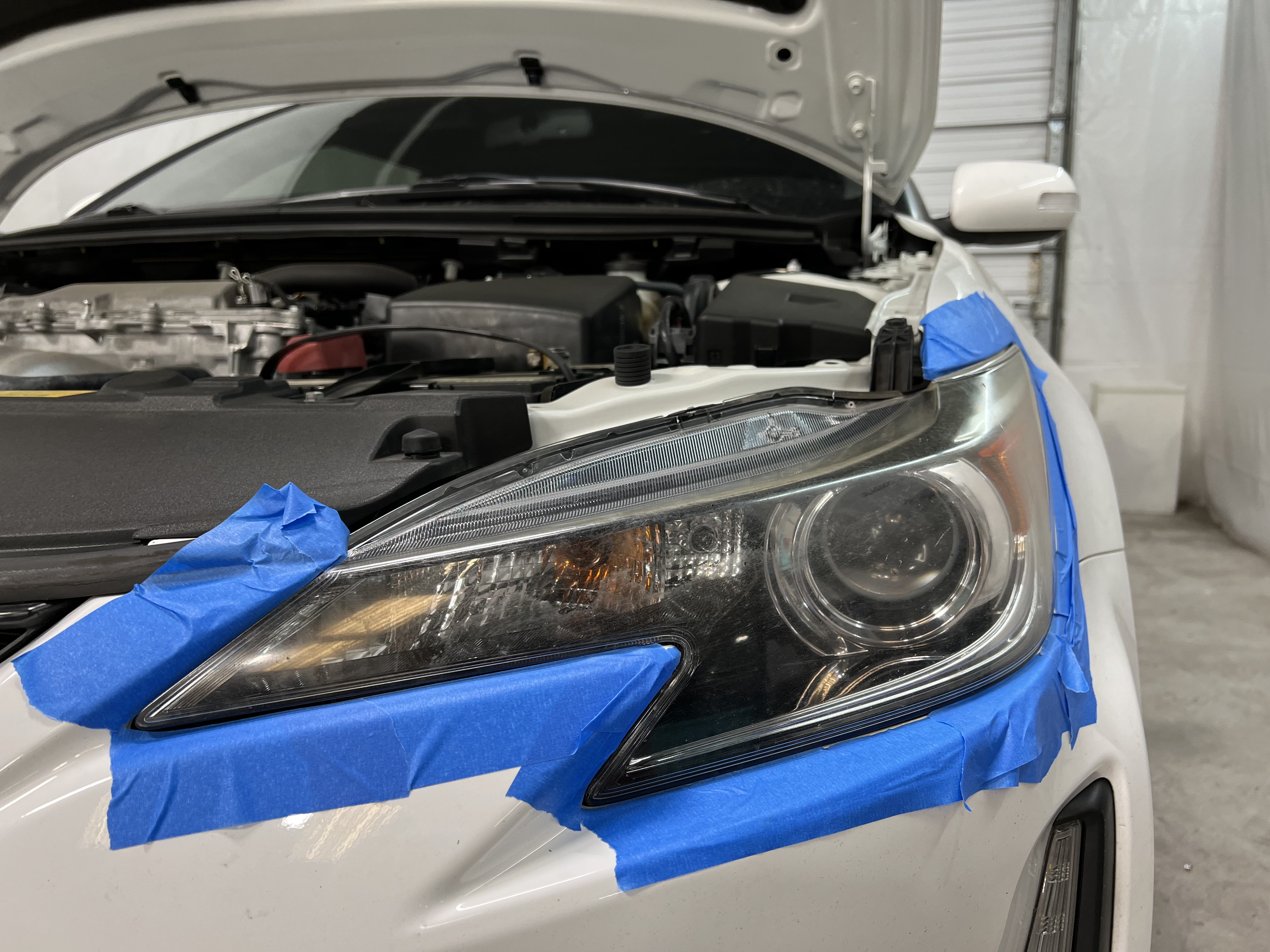 Headlight Restoration
Headlight restoration is a cost effective way to refresh the look of your car. The process can range from a simple polish to shine them up, to a multi-stage sand and polish, with PPF installed after the restoration to keep the lights looking new. Nobody has ever regretted restoring their headlights.
Refresh
Nothing ages a car more than discolored headlights. Taking a set of lights from hazy and opaque to clean and glossy can make a car look 10 years younger instantly.
Increase Visibility
If you can't see in, the light can't get out. Restoration increases how much light can get through.
Protect
PPF and/or ceramic coating can be added on top of the lenses to prevent the issue reoccurring
---
One stage: approximately 30-60 minutes
Two stage: approximately 60-90 minutes
Ceramic coating takes approximately 15 minutes
PPF takes between 15 and 90 minutes
Hazy and discolored headlights age a car more than any other single element. Additionally, if the light from the bulbs is having to fight against opaque lenses, your light output is reduced.
Once the factory UV protectant is removed from the lenses, the lights will begin to haze more quickly. If you don't have them ceramic coated or PPFed, you can expect the lights to stay nice for anywhere from 3 months to a year. Ceramic coating can extend this period out to years, while PPF can keep headlights nice for the full lifespan on the film, usually warrantied for 10 years!
When people use DIY headlight restoration kits, there are one of three outcomes:
the lights are not polished enough to justify the time, effort, and cost,
the lights are polished too aggressively, and irreversible damage can occur to the lenses, or
the lights are polished adequately, but the result is temporary.
When the service is done with all the right tools and knowledge, and the headlights are protected after, you can be guaranteed a high quality result that will last!
Have more questions? Don't see what you want? Contact us!